This step by step flash slideshow tutorial will guide you to turn your photos into Easter Day Slideshow conveniently using flash slideshow software called iPixSoft Flash Slideshow Creator. .Now let's begin the slideshow journey.
Here's what you'll need:

1.Easter Day photos(JPG/JPEG/GIF/BMP/TIF/DIB) and background music.

 
Step 1 : Install Flash Slideshow Creator and Create a New Slideshow
Click here to download Flash Slideshow Creator and then install it. After installation,run the slideshow creator and then click the "New" button to create a new Slideshow.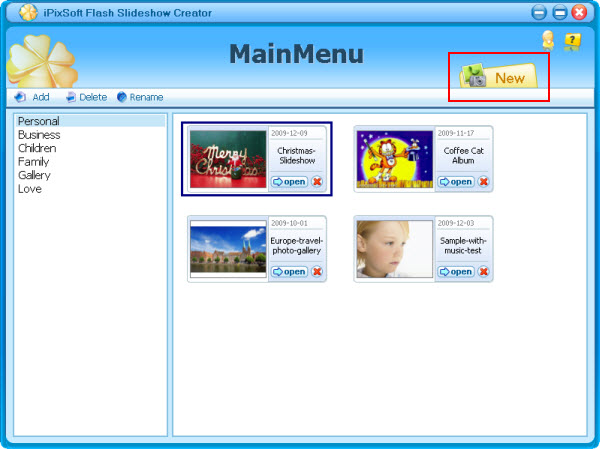 Step 2 : Add Photos, select a Flash Template and add background music
Import the photos you enjoy,then make it better with the built-in photo editing tool, which includes some basic functions like Brightness, Contrast Crop, Rotate, Effect, etc. Then select a suitable flash template for the flash banner. Watch Free Flash Slideshow Templates >>

Step 3: Decorate the Flash Banner with Transition effects,Texts
Click "Decorate"panel, set the "Intro and End" for the flash slideshow or disable them if you don't like it.Then click the effect box to select the suitable transition effects including switch and push effects to make the slideshow more vivid. Depend on yourself,you can choose each slide a effect and set the transition and photo duration or apply the same transition effect to all slides.What's more,you can add some suitable texts to each photo to make it meaningful.

Step 4 : Publish the Easter Day Slideshow
Go to "Publish" panel. Set output option such as Size, Flash option, quality, background color, start button, preloader and Loop Style before making SWF File. Otherwise, you can make Html File,Executable,Screen saver or even Send by Email with Flash Slideshow Creator if you need.

» Level Basic

Added: 2010-03-24
Rating: 5.5 Votes: 2

» Author
Donald
» Download
Download the files used in this tutorial.
Download (0 kb)
» Forums
More help? Search our boards for quick answers!