Introduction:
Context Menu Plugin
of
Moyea Web Player
supports to display personalized content in right-click menu of
Flash video player
created by Moyea Web Player. The menu items can be plain text, links, and the combination of text and links.
Key Features:
Adds personalized content like text, links and text with links in right-click menu of your self-customized web player
Provides separator between each menu item for clear delineation and aesthetic view
Sets how to open the target links among several available ways
Supports plugin duplication so the menu item quantity can be maximumly extended to 15
Where Context Menu Plugin appears:
After installing this plugin, it will appear on the following interface of Moyea Web Player.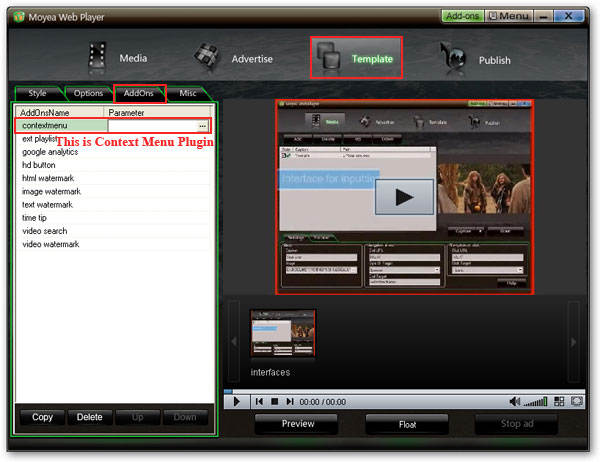 How Context Menu Plugin Works:
Step 1:
During the
Flash video player customization
with Moyea Web Player, click "

" button indicated above to enter the setting page of Context Menu Plugin.
Step 2:
Fill out the personalized information you want to display in the right-click menu and then click
"Submit"
to save the settings.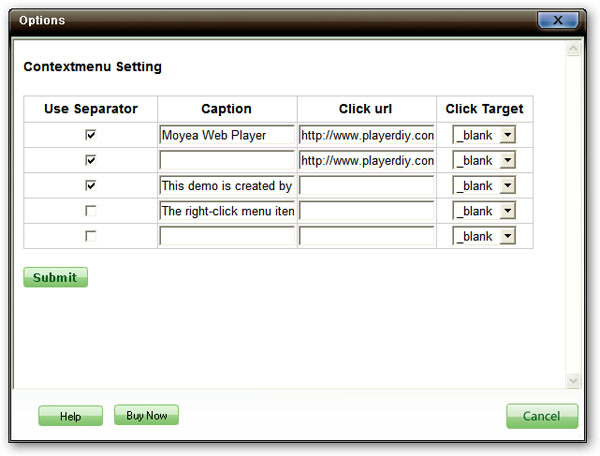 Step 3:
Click
"Publish"
button at last, then you will get a totally customized
FLV player
with the unique content shown in its right-click menu. Exactly the same as the above demo.
Note:
Some certain numbers like "1", "10", "100" and certain capital letters like "A", "B", "C", "D" are not supported to display. Also, the same content will only be displayed once. This is merely the limitation of Adobe Flash itself, not the plugin.
» Level Intermediate

Added: 2010-04-14
Rating: 1 Votes: 1

» Author
Stephen Wong is an expert in web multimedia development who concentrated to give you the best solution of Flash video player for web - http://www.playerdiy.com/
» Download
Download the files used in this tutorial.
Download (0 kb)
» Forums
More help? Search our boards for quick answers!